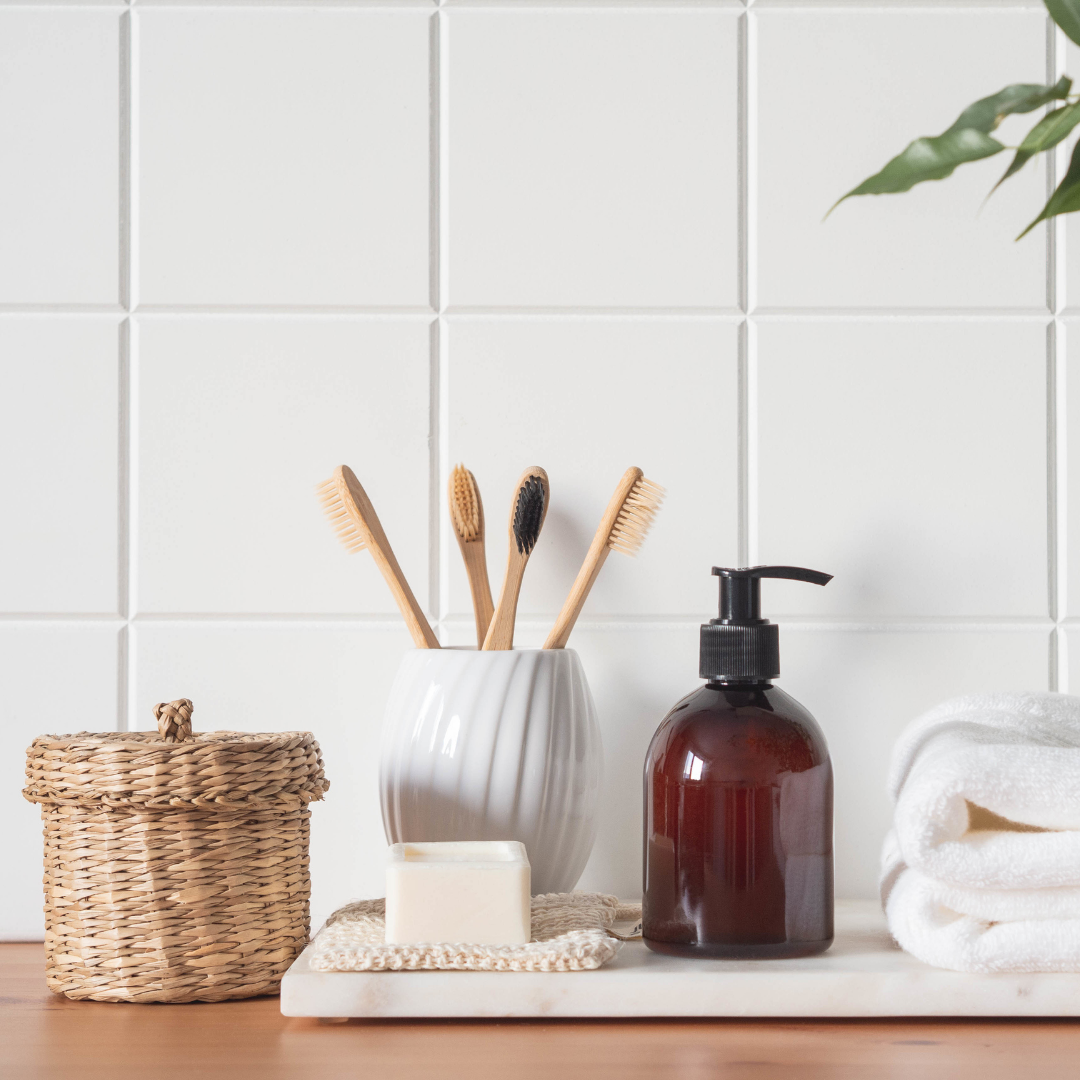 Budget-Friendly Bathroom Products That are Super Sustainable:
Wanda Wakes Up Wonky...

Meet Wanda. Wanda is on a journey to a more sustainable life. She's been trying her absolute hardest to make a difference by reducing her consumption of single-use plastic and using eco-friendly toiletries. Wanda did her research, and after making a quick buck giving a second life to the least-used items from her closet, she decided to splurge on a bona fide pop-up shop of eco-friendly toiletries. Wanda is doing a great job! We should all try to be a bit more like her. 
Wanda loves a fun time and has trouble saying no to the many opportunities of a popular girl's social life. Unfortunately, this means she often finds herself out until the early hours of the morning without a care in the world! However, the care slips back in when the morning comes, and Wanda is left to deal with everyday life whilst she's hungover. She's meeting her friend, Willy, for coffee this morning. As much as she wants to cancel, she can't miss this; she's stood him up so many times recently and she's nervous that he's coming to the end of his tether with her. She's got to get up, no matter how painful it might be.
Discover Wype's sustainable solution to nasty wet wipes!
Wanda's eco-friendly oral hygiene regime
Eyes blurry, struggling to focus, Wanda makes her way into the bathroom. There's makeup all over the counter, the aftermath of getting ready the night before. What's in that glass? No…it's last night's G&T, she pours it down the sink, out of sight out of mind. 
YAWNNnn. Ew! As Wanda smells her breath, she can't help but flinch, it smells so gross! She looks over amongst the piles of makeup on the counter and she finally finds her SURI electric toothbrush, with a recyclable & plant-based head, she might need to swap this one out after brushing her stinky teeth this morning. It did a great job, but what's that? A piece of kebab jammed between her two front teeth. Wanda doesn't even remember eating a kebab last night, she's been trying to cut down on meat but she can't account for post-nightclub Wanda's lifestyle choices. She brushes and brushes but there's no hope, she'll have to use her Non-Plastic Beach biodegradable floss for this carnivorous battle. Luckily, she refilled the reusable glass dispenser the night before, so she has plenty of floss to remove the meaty monstrosity from her tantalising smile. She checks her teeth in the mirror, squeaky clean and shish free. 
WOAHHH!
As Wanda takes a step, she slips, her life flashes before her eyes. She regains her balance and her bearings, realising that the water had run down her elbow and onto the floor when she was brushing her teeth. Silly Wanda, nearly causing a casualty with her bathroom puddles. She slaps her palm to her face when she realises that she's forgotten to put her Panda Bamboo bathmat on the floor before flooding the bathroom with an ocean of minty fresh water. She grabs the mat and lays it down by the shower, preventing any more splashes and spillages…and fatal slips. 
Wanda's sustainable alternative to wet wipes in the bathroom
We've all felt it, that tummy gurgle that intrudes the morning after the night before. She thinks back to the concoction of drinks that she consumed last night…now it all makes sense. Mixing drinks is never good for the haste below the waist in the morning. Luckily, she knows that she'll be feeling fresh as a sea breeze after using her Wype cleansing gel. She finishes her business, folds her toilet paper the way she likes, applies the cleansing gel, and gets wiping, knowing that no nasty wet wipes will be clogging the pipes anytime soon. However, before she can finish, she realises she's run out! She's not worried though; she knows she has some refills under the sink. She simply unscrews the reusable applicator, grabs a refill, and chucks the infinitely recyclable aluminium bottle into the recycling bin. She can now rest assured that she is going to be fresh for the whole day knowing that she's using eco-friendly products!
She pulls back her HIBE Home, EVA vinyl biodegradable shower curtain to reveal the shower, the thing that is about to wash away the trials and tribulations of last night. She turns to look in the mirror and she can't believe her eyes.
Refillable shower products for the win!
As Wanda looks in the mirror she thinks, "what on earth happened last night?" She's covered in mud and grass stains, her hair is matted, someone spilt rum and coke in her hair last night and it's all clumped together. What's that? There's a twig in her hair. Garlic mayo? That must have been from the kebab she has no recollection of. She's never needed this shower more. 
She removes the twig from the bird's nest that is her hair and hops in the shower. First, she needs to sort out her hair. She turns to her holy grail, her shower time staple – Hairy Jayne's refillable shampoo and conditioner. She lathers it up in her hands and applies a generous coating, she's not surprised when she finds it lathers well and washes the dirt right out from her scalp to the ends of her hair. Yet the knots still prevail. She grabs the conditioner, running it through her hair with her fingers, trying not to panic at how knotted it is. Taking her Ecovibe bamboo detangler, she brushes out the knots to reveal her lovely, silky-smooth hair. "Much better" she thought.
Willy had told her not to go out the night before seeing him, he wanted her full attention for their catch up. Obviously, Wanda agreed that she would stay in and get a good night's sleep. She looks at her wrist, 3 stamps from 3 different club entries. She needs to scrub them off, so he doesn't find out that she betrayed his trust. She looks over at her Fiil refillable body wash, thankfully it's full, so she knows there's plenty to get those stubborn stamps off. For good measure, she takes her brand-new Seep compostable and plastic free loofah and gets scrubbing. She gives herself a good scrub and it's as if the stamps were never there in the first place. Not only that, but she smells just like lemongrass, her favourite!
Sustainable deodorant, aluminium free? Yes please!
Finally, Wanda is feeling as though she's nearly back to her usual self, but she knows herself. The hangover sweats were sure to kick in soon enough. She grabs her Akt deodorant balm. Whenever she puts it on, she knows that she will be smelling sweet and fresh all day. Her friend had told her about how natural deodorants were better for her because there's no aluminium or antiperspirant to toxify and clog her pores. Wanda can't help but audibly sigh with relief, knowing that she is two times the person she was when she woke up.
No matter how horrid Wanda felt waking up from her wild night out, she knows that she's done her bit to make a change by swapping out the harmful single-use plastic products she once used, for these affordable eco-friendly bathroom products. Wanda has done such a great job by making these sustainable swaps, she can now go and meet her friend, Willy, and tell him about all the amazing benefits she has found when using them. Then, perhaps Willy will be able to persevere with his journey to a more sustainable lifestyle. 
Discover the secret to Wanda's Sustainable Bathroom routine
Want to be like Wanda? Here at Wype, we've got a budget-friendly bathroom bundle to suit everyone. From Family packs to starter kits perfect for two. Shop the Wype range today! 

Got a question about what Wype is or how to use it? Please consult our FAQ page, where you will find the answer to the most commonly asked questions. If you still haven't got your answer, please do not hesitate to get in touch with us and one of the Wype team will be happy to assist you!
7 Comments
Paul mac

Wanda probably looks like that because she couldn't wipe her bum either!

Hannah Whitworth

How about eco interdental sticks like tepe brushes?

Elaine Johnson

I would love some eco friendly face wipes feminine wipes too, ones that do not cause any irritation.

Kathryn Merry

Left feeling clean and fresh after using my wype gel. No need for a wet wipe, never felt right using them.

Nick Howarth

Thanks for the floss link been looking for a decent one, a few days into wype and so far so good!!

Pat Chaplin

Thankfully, we who use Wypes are not blocking the pipes below ground. I always feel extra clean after using them.

Angie Beresford-Slinn

I love Wype and it has cut down the wipes I buy but I still buy facewipes and feminine wipes, have you plans to introduce anything like this?
---