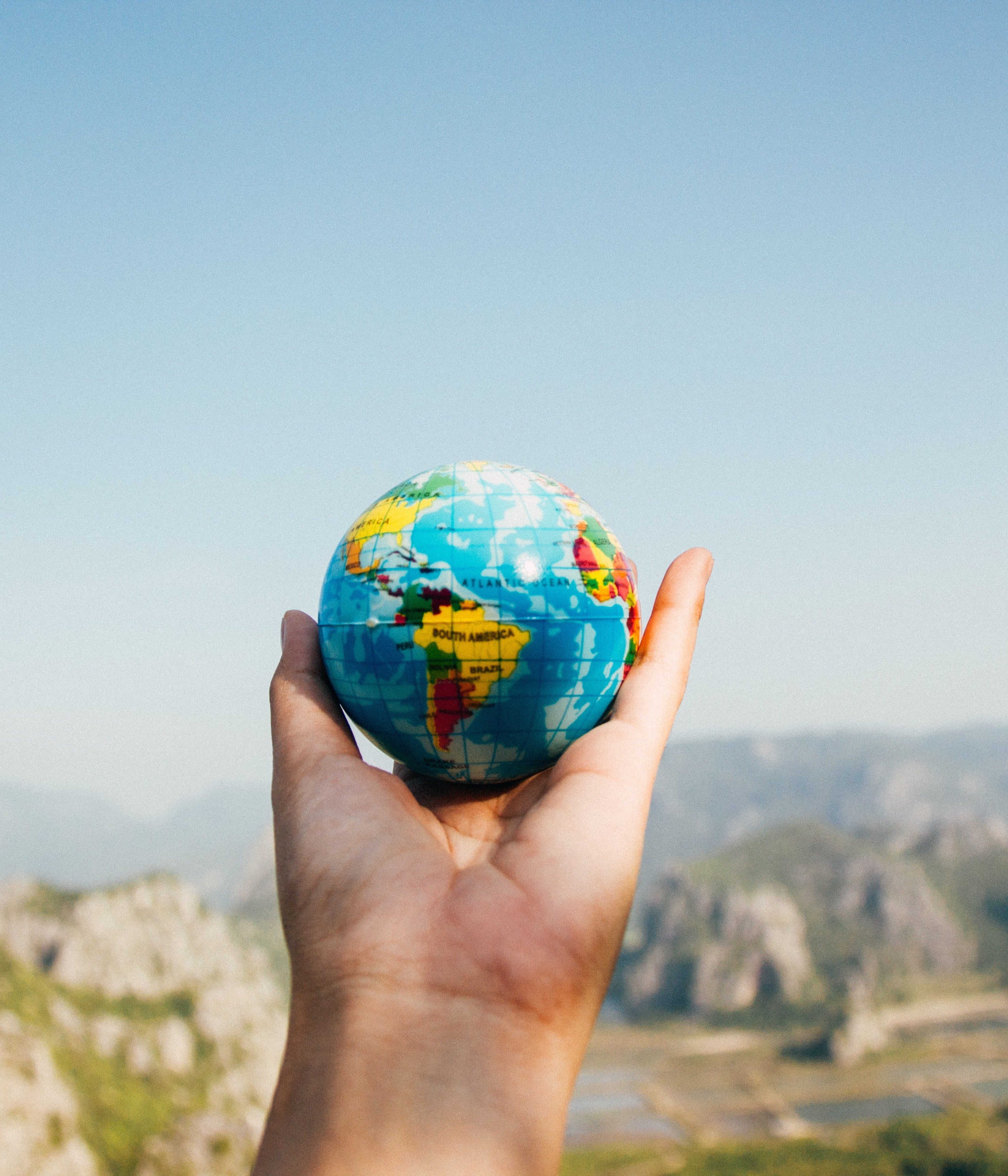 8 Ways to Stay Sustainable Whilst Travelling
Ralph Waldo Emerson once said, "it's not about the destination, it's the journey" but when it comes to making better choices for ourselves and the future of our planet, it's better to keep the destination in mind as well (especially when carrying our litter for that extra mile until we reach the first available recycling bin)! Living a sustainable lifestyle shouldn't mean giving up travel, and we would never want it to! Making conscious decisions around travelling is important, but we shouldn't let that deter us from engaging in the social or cultural experiences that are afforded to us. Nonetheless, whether you're a journey lover or a sucker for the destination, we're increasingly asking ourselves, how can I make more sustainable decisions when travelling?
What? Did you think we just did intimate hygiene? Well, we couldn't be more excited to introduce the Wype travel agency, Your One-Way Ticket to Clean! Kidding…Although we may not be travel experts, we know the ins and outs of making sustainable decisions that lead to positive changes, ones that help you make a difference. Here at Wype, our mission is to take the strain off making environmentally friendly choices, so you can spend less time worrying, and more time letting the good times roll. So, stick around and discover 8 ways to be more sustainable while travelling to reduce that pesky carbon footprint!
 Discover the must-have eco-friendly companion you need on every trip!
1.  
Take the road less travelled
Going to the same old spots as everyone else can make your travelling experience feel like a carbon copy (boring!). If you visit destinations that are less popular with general tourists, you (& the environment) will benefit. When you break it down, fewer people mean it's less busy and therefore you're less likely to be forced into unsustainable practice. According to a study by Sustainability Mag, Sweden, Switzerland and Norway are the most sustainable countries in the world, so consider adding them to your bucket list!
Side note: If you find a loo with a view, tag us on Instagram and we'll feature it on our stories (we can't help it, we're obsessed!). If you're looking for inspiration, we've got you covered too!
2.  
Consider taking a reusable water bottle
By ditching that unflattering, or dare we say, ugly plastic water bottle and picking up a beautiful reusable one, you're able to reduce the disposal of single-use plastics that end up in landfills (taking up to 450 years to break down…not cool!). Make sure you pack your favourite bottle in your bag before you leave. These days we're certainly not short of design options for every budget and aesthetic! Personally, we love Chilly's Bottles and Ocean Bottle. And don't forget, with festival season approaching, you'll want to stay hydrated without looking like THAT person who's trashing the place (especially considering more and more festivals are banning plastic bottles, yay!)
3.  
Pack some sustainable toiletries
Whether it be The Toothbrush bamboo toothbrush, Wild refillable deodorant, or The White Teeth Boxbiodegradable floss, there are always sustainable toiletry options for travelling! These brands leading the way in reusable and zero-waste self-care are making it easier than ever to keep needless waste in check while hostel hopping, or just lounging about at a resort for the week.
But how about 'below the waste' you ask? We've got you covered, of course! If you like to rough it out a bit at a festival or bask in the sound of nature at a campsite, you'll be forgetting all about the lack of phone service when you realise the monstrosity that is the lack of toilet paper in the loos! Now, we know you're thinking of reaching for those pesky wet wipes…but don't do it! As far as iconic doo-duos go, we would say the greatest has to be Wype and WhoGivesACrap, who donate 50% of their profits to funding clean water and sanitation. So far, they have donated over $10,800,000 (now that's something to give a crap about!).
4.  
Keep your Wype Refill nearby
Clean and sustainable travel is our bread and butter. When we designed Wype Refill, we wanted it to be small but mighty, and convenient of course. By choosing to use Wype over nasty wet wipes, not only do you have the moral high ground, but you also save the ground beneath your feet! How's that view? Not bad, huh? Our formula is certified COSMOS Organic by the UK soil Association and packed with a blend of sustainably sourced botanicals that will leave you and the earth clean. Need Wype to fit discretely into your bag? Our 100ml Wype Refill is the one for you. Something to fit neatly into your pocket? Try the Wype Mini! Both products sneak right through airport security, complying with hold luggage liquid restrictions. It's almost we've thought everything through, right? Wherever you go you can stay clean whilst keeping the local sewers clog-free and void of wet wipes!
5.  
Take a hike! Where possible.
We're not trying to be mean, but we really think you should. They do say the best way to explore the location you're in is on foot. And all the while you'll be helping reduce your carbon footprint. We understand that not all places are accessible on foot, so if there is the option of cycling or public transport, why not try it out? This way you can enjoy the scenic route whilst reducing pollution, it's also worth mentioning that 27% of greenhouse pollution in the UK alone is caused by transport.
6.  
Longer holidays are better for the environment
As if you needed an excuse to stay longer in one of your dream locations, but it really is the best way to travel sustainably. Instead of taking multiple shorter trips each year, one longer stay will result in less fossil fuel being burned and ultimately means you're operating more sustainably. 
7.  
Your wardrobe doesn't need another refresh
Look, we get it. You want to look your best when you're on holiday, but you need to think, does your wardrobe really need a refresh? One of the keyways to travel sustainably is by reusing your old outfits. Fast fashion and textile production contribute more to climate change than international aviation and shipping combined. If you're looking to freshen up your wardrobe this summer, Vinted is a great way to sell your unwanted clothes and buy second hand with no listing or selling fees! You'll be looking fresh, for less.
8.  
Offset your carbon footprint after your trip
Offsetting your carbon footprint after your trip is one of the best things you can do to ensure your holiday was done sustainably. There are many ways to offset, with many companies setting up causes and charities that do so. These projects are geared up to do things such as planting more trees and distributing low-energy consuming light bulbs in third world countries. Plan ahead and set aside a bit of your travel budget (in most cases it's less than the price of a meal) and take your pick, it's surprisingly easy and takes as much time as shaking up your favourite cocktail. Find out more on how you can offset your carbon footprint in this article by The Guardian.
Make the sustainable choice that starts at home
It is possible to travel sustainably, and it all begins at home. When you're packing your bag, remember these 8 sustainable travel tips and don't forget to pack your Wype Refill. Wype is portable and easy to keep within reach thanks to its handy loop. While you peruse the holiday sites, why not take a gander at the (w)hole story, for all your toilet-related reading needs.
If you have any questions regarding how Wype is made or details regarding delivery/returns of your Wype, please consult our FAQs! If you still haven't got your answer, please do not hesitate to get in touch and one of the Wype team will be happy to help! 
1 Comments
Pat Chaplin

The small Wype is such an easy product to take on holiday. I left one at a previous accommodation for the owner to use. He may wish to buy another .
---