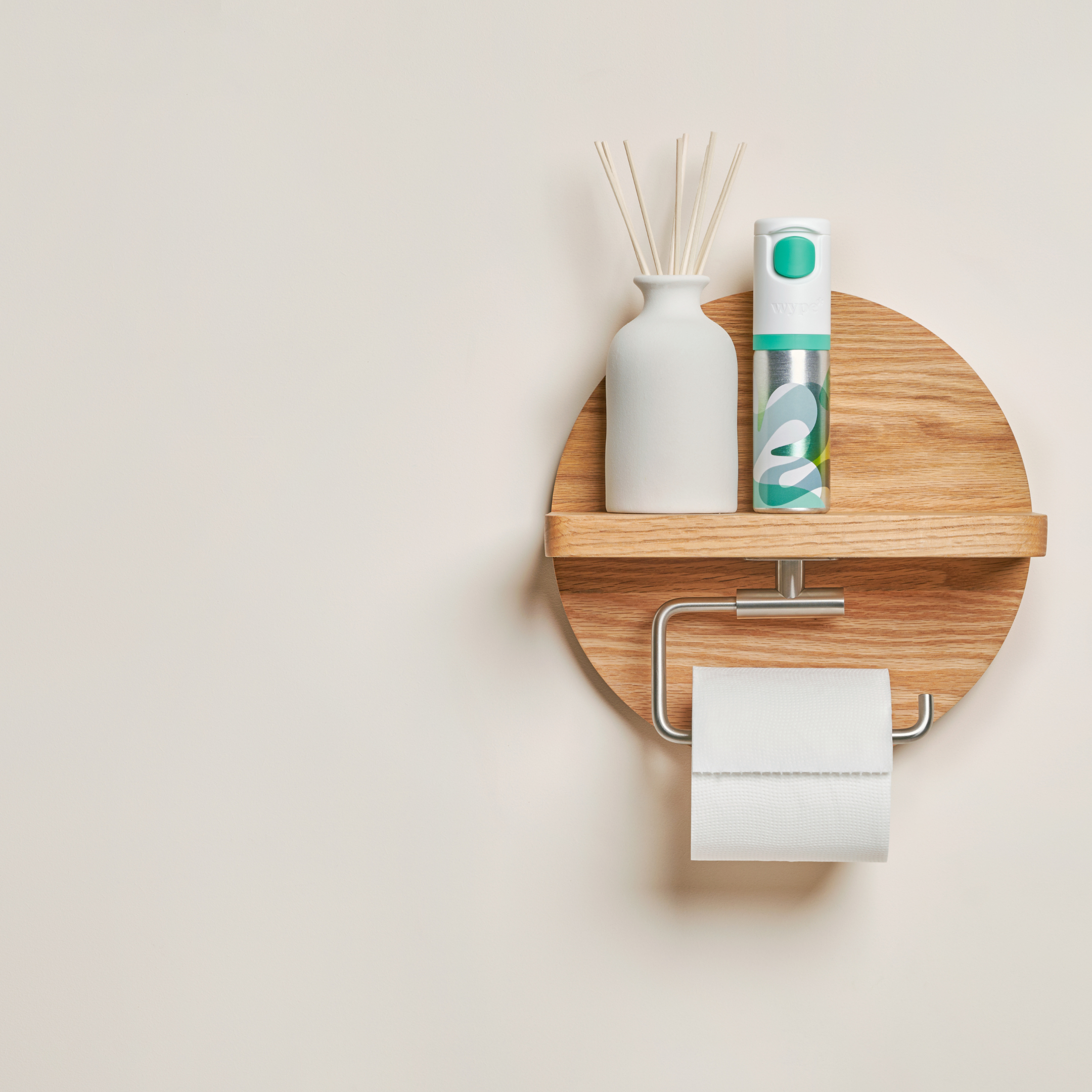 Wype x Morrama: The Wype Pump No. 2
Wype was born from the desire to innovate on an ancient ritual. Just like a recipe that is being handed down through generations, we wanted to put our spin on this often-overlooked daily routine to see if we could adjust it to face contemporary issues; wet wipe pollution, a need for a convenient clean on-the-go, and a rising incidence of digestive and below-the waist issues.
When we set out on the mission of creating the first ever custom toilet gel dispenser, naturally, it had to be perfect—what can we say? It needed to do justice to a very particular moment of the day! But the thing about perfection is it just can't be built upon. So, we went for the next best thing. Almost perfection.  
Now, nearly two years on, we bring you an even more perfect design. Keeping all the best parts of a pump that evenly dispenses our gel, while extending its lifetime, and making it even better suited to get the job done.  
Like wiping, but better. 
From countless early designs scribbled onto post-it notes and sprawled over a kitchen counter, to 120,000 customers keeping their Wype close-by no matter where they go, we've taken every step of this journey with our customers by our side. 
We knew this mission was going to be a little more than just a 'clean-up on aisle 7', so we sought out the expert support of the Morrama Design Studio, who helped us to create a world's 'first of its kind'  applicator way back in early 2022. You know that Wype pump you're familiar with? They helped us get that into your hands. Many years later, we couldn't be more thrilled to have put our design improvements in their capable hands once again. 
Jo Barnard, Founder of Morrama, shared some thoughts on the process of bringing this new & improved version of Wype to life: 
"When you put an innovative product such as Wype on the market, there are always going to be risks. At some point you have to launch and see how it goes. Being given the opportunity to revisit the design and make improvements based on real customer feedback is our dream as designers and we are really proud of the Wype applicator version 2."
As a small company, our community is everything. One of the advantages of having such high amounts of personal contact ('in the cubicle with you' kind of contact) is the invaluable (and extremely direct!) feedback we receive, with real stories straight from the throne.  After all, who better to tell you what your product needs than 120,000 people who are trying to get the job done? 
Morrama have kept this front of mind whilst designing our new pump, focussing on tangible improvements: 
"Two key challenges were solving the blocking issues [some of you have been leaving the lid open, we see you 👀] and making the button easier to press and therefore more accessible to a wider audience. We haven't rushed this work, we wanted to get it right."
Today, we feel extremely fortunate to have been able to draw from the feedback of real people, facing real issues, sitting on real toilets: "We've tested every option in-house before making iterative changes with the manufacturer and finally we are happy to say, it's ready for launch." 
We're super excited about the result. 
Let's splash into a couple of the features we were looking to upgrade: 
Ergonomic button – we all handle things differently when it comes to our toilet routine, and sometimes there's no right answer. However, for a product designed to help you with your natural bodily functions, accessibility must be at the forefront. For example, an easy access button, unguarded by a lid, to make it even easier to get the Wype gel flowing. Our big green button is now prominent and easy to access and press, even by the most delicate hands.
Airtight seal – like many formulations (especially natural ones), our gel doesn't like being exposed to air all that much, as it slowly but surely dries it out. While we always encourage our users to close the lids of their pumps tightly after each use, we realised that to avoid blockages, we had to step up our sealing game. So, we've made the seal airtight and added a more tactile 'click' sound so that when you finish and close the bottle lid you get that satisfying sound of a done deal. 
Stronger hinge – Believe it or not, when we produce our applicators we do 'hinge tests' to make sure that the cap can be opened and closed thousands of times without breaking. And yet, we got the feedback that our little guy needed to hold on tighter! So on our redesign, we modified our hinge to make it tougher than ever, so that you'll never be left hanging. 
While this release may even go unnoticed by a future Wyper who stumbles onto our website today or tomorrow, we are extremely excited about the work that has been done to make our pump better than ever, and we thought it only fair to share the news with you - our community - who have been supporting us and sharing your thoughts from the toilet seat and beyond.
Morrama understand that, when it comes to keeping bums happy, we need to be agile and adaptable: 
"Keep your feedback coming. Our work is never done, there is always a way to make something better. And we will continue our great relationship with Wype to ensure bum-wiping is as good as it can get, both for you and the planet."
As a team we value the diverse preferences and needs of our Wypers above all, and believe us, you are a diverse bunch! Each feature, whether seen as essential or redundant, finds its fans, and we constantly learn of new ways of Wyping. Please keep sharing the unique ways in which Wype fits into your routines, we are listening!
Thank you for your continued trust in us. You are the reason we strive to improve every day.

So, want to see for yourself what all the fuss is about? 

You can find our brand new pump on all Starter Kits from here onwards, and if you're all set for refills, you can get the pump alone (finally) here. We are also celebrating with 20% off sitewide all week with code BIGBUTTON!

(ends 11:59pm on 27/11/2023)
3 Comments
Val Smith

Just ordered a new pump only. Really pleased to see you've made these improvements….I have sometimes struggled with the old style button so looking forward to trying the new one! Thanks Wype!

Lorene Williams

Looking forward to trying the new pump top…looks good.
Enjoyed battling the bot for a discount too…made me giggle.
Hoping to convert a relative to Wype as my contribution to reducing wet wipe cloggage!
Keep up the good work Wypologists.

Carol M Atherton

Strangely I have not had any other pump but a bog 🤪 standard basic little one.
Next time I get a pile of Wype I hope to have the new pump.
Ps I really like the vulval pump too. No emoji for that!
---